Harry Potter and the Cursed Child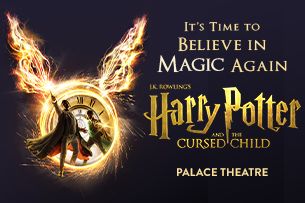 TOUR DESCRIPTION
The eighth story from the Harry Potter series
The first to be made into an official play
Multi award winning
Tickets are valid for both parts of the play
A ticket to Part One and Part Two of Harry Potter and The Cursed Child
Transportation
Food and drinks. Please note that food and drinks from outside the venue cannot be brought in.
Important Information
Days of Operation:
Wednesdays, Fridays & Saturdays : Part one at 2pm & Part two at 7pm.
Sundays: Part one at 1pm & Part two at 6:00pm.
No shows on Mondays, Tuesdays and Thursdays.
Play Duration:
Part one - 2hrs 40mins.
Part Two - 2hrs 35mins.
Please note:
Your ticket will admit entry to both parts of the two part play.
Band A tickets - Seats will be in the Stalls or Dress Circle
Band B tickets - Seats will be in the rear Stalls or Grand Circle.
Food and drink from outside the venue cannot be brought in.
Completing a booking for this product is a booking request. The booking will be final once the tickets are issued.
MORE INFORMATION
Harry Potter and the Cursed Child is an award-winning play and is the first story of the Harry Potter series to be turned into a play. As the eighth story of the series, this play is set during the epilogue of Deathly Hallows in the year 2017, shortly after Harry and Ginny escorted their three children to Platform 9 ¾ to board the Hogwarts Express.
Focusing on Harry's children, this magical adventure is like no other and is a must-see for all Harry Potter fans! This critically acclaimed production is the most awarded West End play in the history of the Olivier Awards.
This play is in two parts. Your ticket is valid for both parts of the play.