Open Top London Bus Tour with Live Guide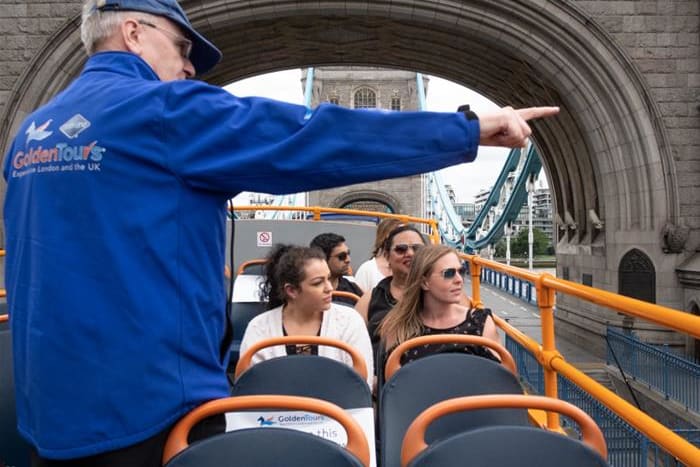 TOUR DESCRIPTION
Reconnect with London on this 90min open top bus tour. Drive past all the greatest London landmarks including Buckingham Palace and the Houses of Parliament in our well ventilated open top buses, with a live English-speaking guide*
Open top bus tour around London
A professional live guide*
Audio guides available in 11 languages
Reduced capacity and allocated time slots to avoid over crowding
This is not a Hop-On Hop-Off tour
Entrances to any attraction
No refreshments will be provided
Important Information
Schedule:
Day Tours: from 10:00am to 5:00pm, depart hourly.
Night Tours: 7:00pm and 8:00pm
Additional 5:00pm and 6:00pm tours during Christmas Lights in London (Dates to be announced)
Departure Points: London Eye, Belvedere Road, Tourist bus stop number 4, London, SE1 7GH (nearest tube and train station is Waterloo, 2 minute walk).
First Bus: 10:00am
Last Bus: 8:00pm
Return Point; London Eye, Belvedere Road, Tourist bus stop number 4, London, SE1 7GH
Duration: 90min to 120min (subject to traffic on the day)
Please note:
*Live Guide: Subject to availability on day time tours
We aim to have a live guide on all departures, however due to the current ongoing situation, this can be subject to change.
Audio guides will be available in 11 languages (English, French, German, Italian, Spanish, Chinese, Russian, Brazilian Portuguese, Indian, Japanese and Arabic)
Please arrive 15min prior to your departure time to allow time for boarding.
To see our social distancing and health and safety policy, visit www.goldentours.com/covid-19
This is not a Hop-On Hop-Off bus service. The bus will stop at all stops on the route, but your ticket is valid for one entire loop only.
The full loop tour can take up to 120 minutes (subject to traffic on the day).
There will be no breaks during the tour.
No restroom available on board.
No food will be provided on this tour.
We will no longer be providing complimentary face masks to all our guests, but you are very welcome to wear your own mask.
Buses will be cleaned thoroughly after every tour.
During summer months the night tour will operate mainly in daylight.
**You can cancel your reservation for this product up to 48 hours before departure and get a refund in full.
MORE INFORMATION
Sit back and relax as one of our well-ventilated open-top buses reconnects you with your favourite London landmarks. Glide past the Houses of Parliament, Buckingham Palace and Piccadilly Circus in this 90 minute fully guided tour of Central London.
This tour is not Hop-On Hop-Off and guests will be required to remain on the same bus for the duration of the tour. We will be providing compulsory masks and gloves however, customers may wear their own if they wish.
The buses will be running at reduced capacity and tickets will be sold in specific time slots to avoid overcrowding.
Join us in reconnecting with this great city!
Please note tour can take up between 90 to 120 minutes (subject to traffic on the day).