British Airways i360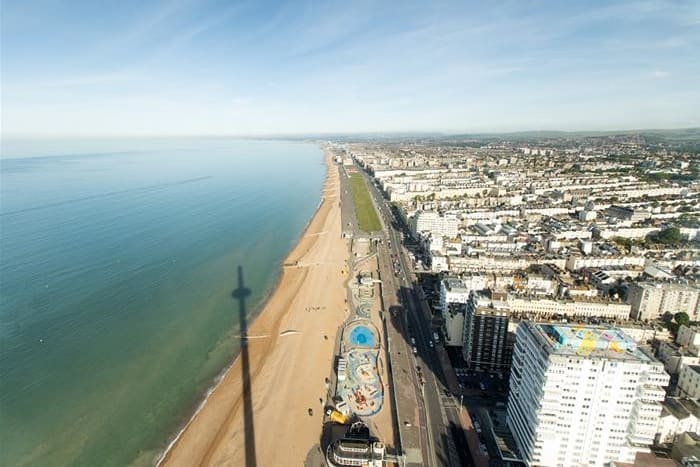 TOUR DESCRIPTION
Fly up to 450 foot to enjoy breath-taking views from the world's tallest moving observation tower designed by London Eye architects. Beach side Brasserie, tea rooms, gift shop and kids zone.
Entry ticket to British Airways i360
How it was Built' exhibitions
Gratuities
Food and drinks
Transportation
Important Information
Please Note:
This activity is disabled friendly.
Please arrive 30 minutes before flight time.
Venue Information:
British Airways i360 is situated as it is still standing the historic West Pier on Brighton Beach, BN1 2LN.
MORE INFORMATION
Take a flight to the skies and see Brighton and Sussex as you have never seen them before! Cruise up slowly to 450ft high to enjoy breath-taking 360° views of up to 26 miles. Brighton's vertical cable car was conceived and designed by Marks Barfield Architects, the creators of the London Eye. British Airways i360 has a fully enclosed, aerodynamically shaped, futuristic glass viewing pod with room for up to 200 visitors to move around in, admiring the views from all different angles. During the evening, British Airways i360 will transform into the Sky Bar, the most unique bar in the UK. The beach building, at the base of the tower, includes a stylish brasserie; heritage tea rooms, housed in an 1866 West Pier toll booth; a shop and fully flexible hospitality rooms.
Walk 360
Walk 360 is an open air, heart-in-mouth walk on top – yes, on top – of the i360 pod. At 138 metres up, you'll get all the stunning views of Brighton with the added thrill of being out in the elements. It's certainly not for the faint-hearted, but if you love a thrill then this is one walk you'll never forget – and the reward is worth every adrenaline-fuelled step.
Your ticket includes two digital photographs that will capture you at different points on the Walk 360. Take on the challenge of leaning back, arms spread out wide, with the 138 metres of Brighton and the south coast below you! And make sure to smile!
Spectator tickets are also available for friends and family who are not brave enough to do Walk, but are happy to be there for support.